Water King Industry Co., Ltd.--Radiators, condensers, radiator supporters, fan assemblies, molds and dies
---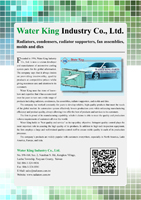 Founded in 1996, Water King Industry Co., Ltd. is now a veteran developer and manufacturer of automotive cooling system parts for the global aftermarket. The company says that it always insists on providing trustworthy, quality products at competitive prices while giving maximum care and attention to its customers.
Water King uses the store of know-how and expertise that it has accumulated over the years to turn out a wide range of products including radiators, condensers, fan assemblies, radiator supporters, and molds and dies.
The company has worked constantly for years to develop reliable, high-quality products that meet the needs of the global market. Its automation system effectively lowers production costs while enhancing manufacturing efficiency and product quality, always allowing it to offer the best of products and services to its customers.
The firm is proud of its manufacturing capability, which it claims is able to meet the quality and production volume requirements of customers all over the world.
Water King holds to "best quality and service" as its top policy objective. Stringent quality control plays the most important role in assuring the high quality of its products. In addition to high-tech inspection equipment, the firm employs a large and well-trained quality-control staff to ensure stable quality in each of its production processes.
The company's products are widely popular with customers everywhere, especially in North America, Latin America, Europe, and Asia.